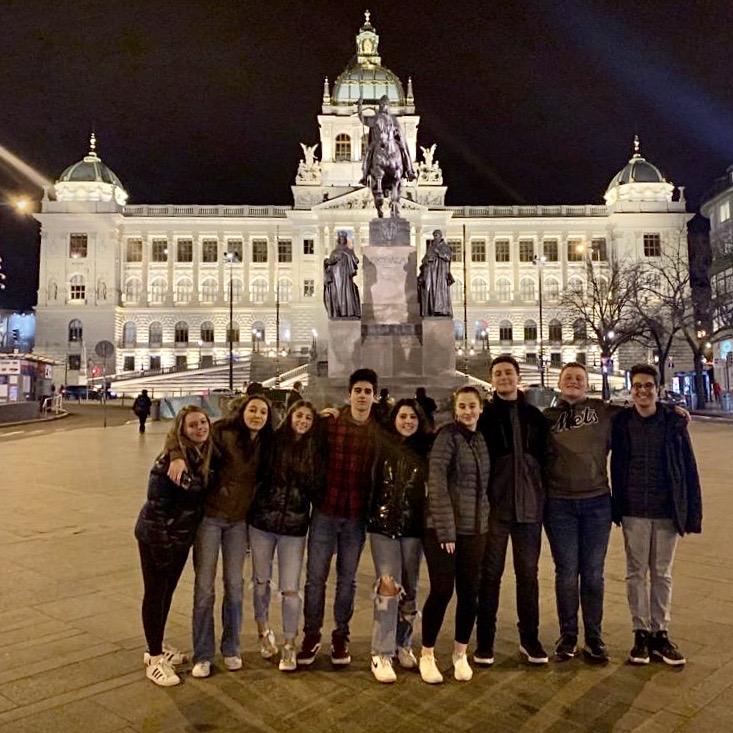 Andrew Paull (Director of Teen Engagement): Last week, Rabbi Mosbacher and I were joined by nine 11th- and 12th-graders from Temple Shaaray Tefila for six days in Prague, in the Czech Republic. Prague is one of Europe's most beautiful, exciting, historic, and Jewishly-interesting cities.
Rabbi Joel Mosbacher (Senior Rabbi): Part of our educational goals for our kids is to educate about the history of Jewish life in Europe. It's very easy to go to places in Europe and talk about how Jews died there, but it's at least as important, from my perspective, to talk about the thousand-year history of Jewish life in places like Prague.
AP: On Friday afternoon, we had the opportunity to visit a Jewish senior home and welcome Shabbat with them.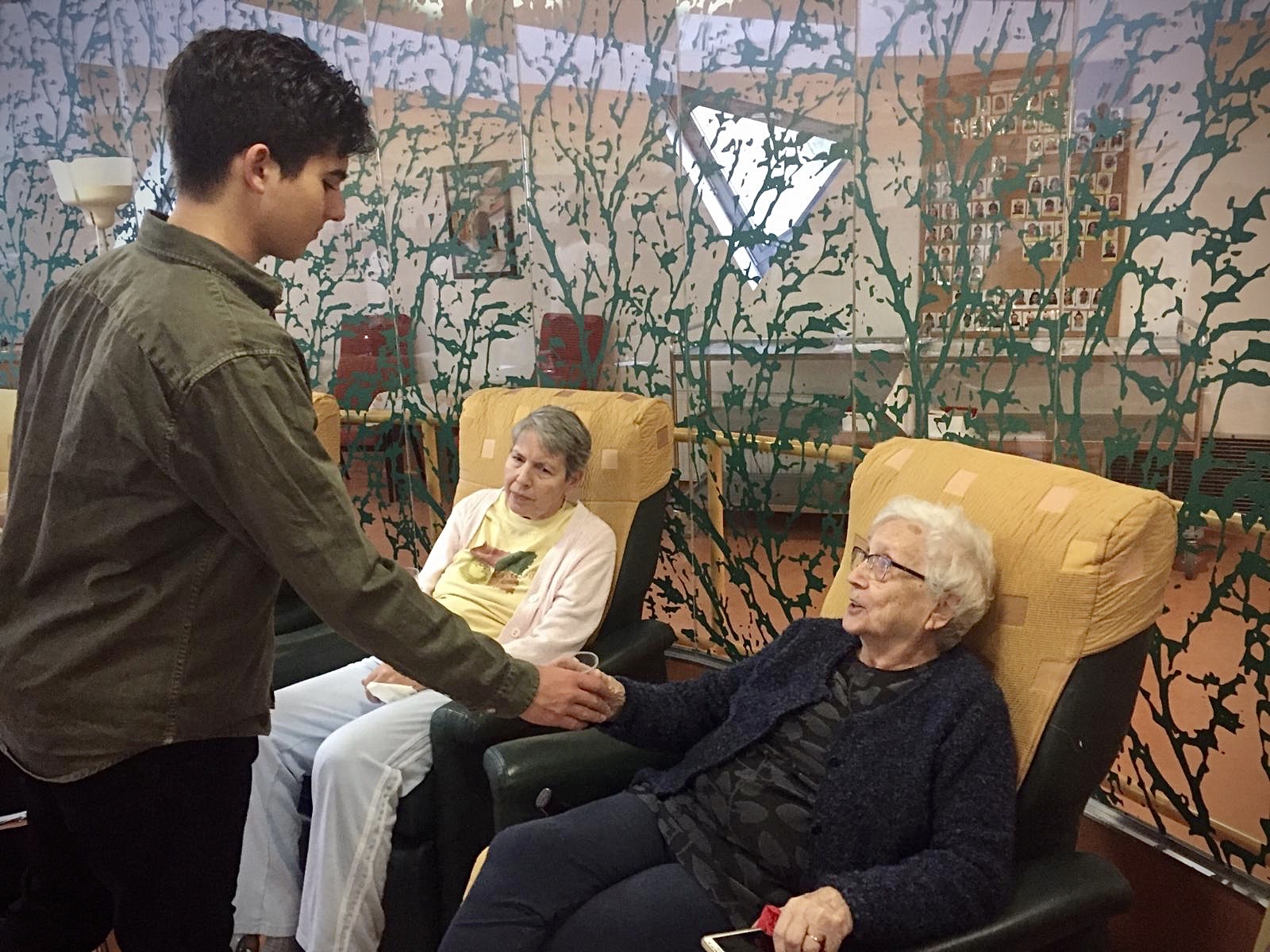 RJM: At Beit HaGibor, the seniors are pretty much all survivors of the Holocaust. We helped them with the Shabbat blessings, and met with them. It was a very powerful way to begin our Shabbat celebration and begin to root ourselves in where we were.
Matthew Furman (TST teen): On Friday night, we went to Shabbat services at a progressive synagogue in Prague. It's a very small Jewish community in Prague. Their synagogue isn't exactly like what we have here. It's one room in a Jewish office building. It was a very interesting service, and a good experience.
RJM: The synagogue, Beit Simcha, is actually one of three reform synagogues in Prague. We met the people there — probably 25 or 30 congregants, plus us — and it was lovely. It was cool to see Jewish life thriving in places where, I think, many of us thought there would never be Jews again.
AP: On Saturday morning, we studied Torah.
RJM: The Torah portion ended up being the Ten Commandments, and we took a look at why the Torah doesn't say, "Love your parents," and we talked about the difference between "love" and "honor." And then we headed out into the city to explore.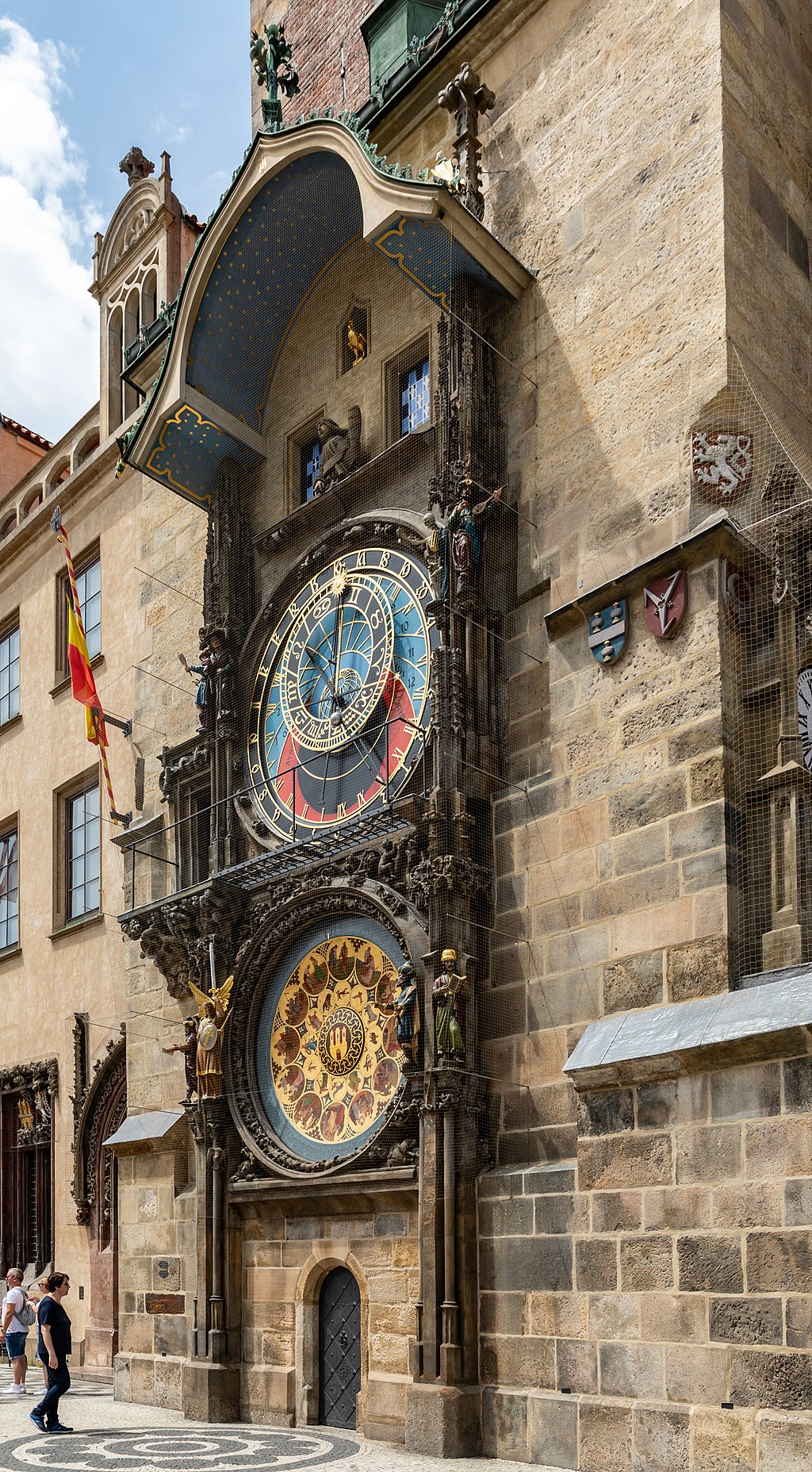 AP: We toured the historic and beautiful Prague castle. We crossed the Charles Bridge, enjoyed some Czech cuisine, and explored the city. On Sunday, we toured the Old Town Square and saw the astronomical clock. [Installed in 1410, the astronomical clock in Prague is the third-oldest astronomical clock, and the oldest still operating.]
MF: The astronomical clock was amazing. It's really old and it's still functioning after all these years. It's huge. It's not really something you'd expect to see, but it's right there in the center of town. It was really interesting to walk around Prague. In New York, we're used to the tall buildings and everything's modern. Prague's not small, and it's got over a million people, but it's so different. A lot of it's very old, and if it's not super old, it's built during the Communist era, and so it's really different from what we see in the United States.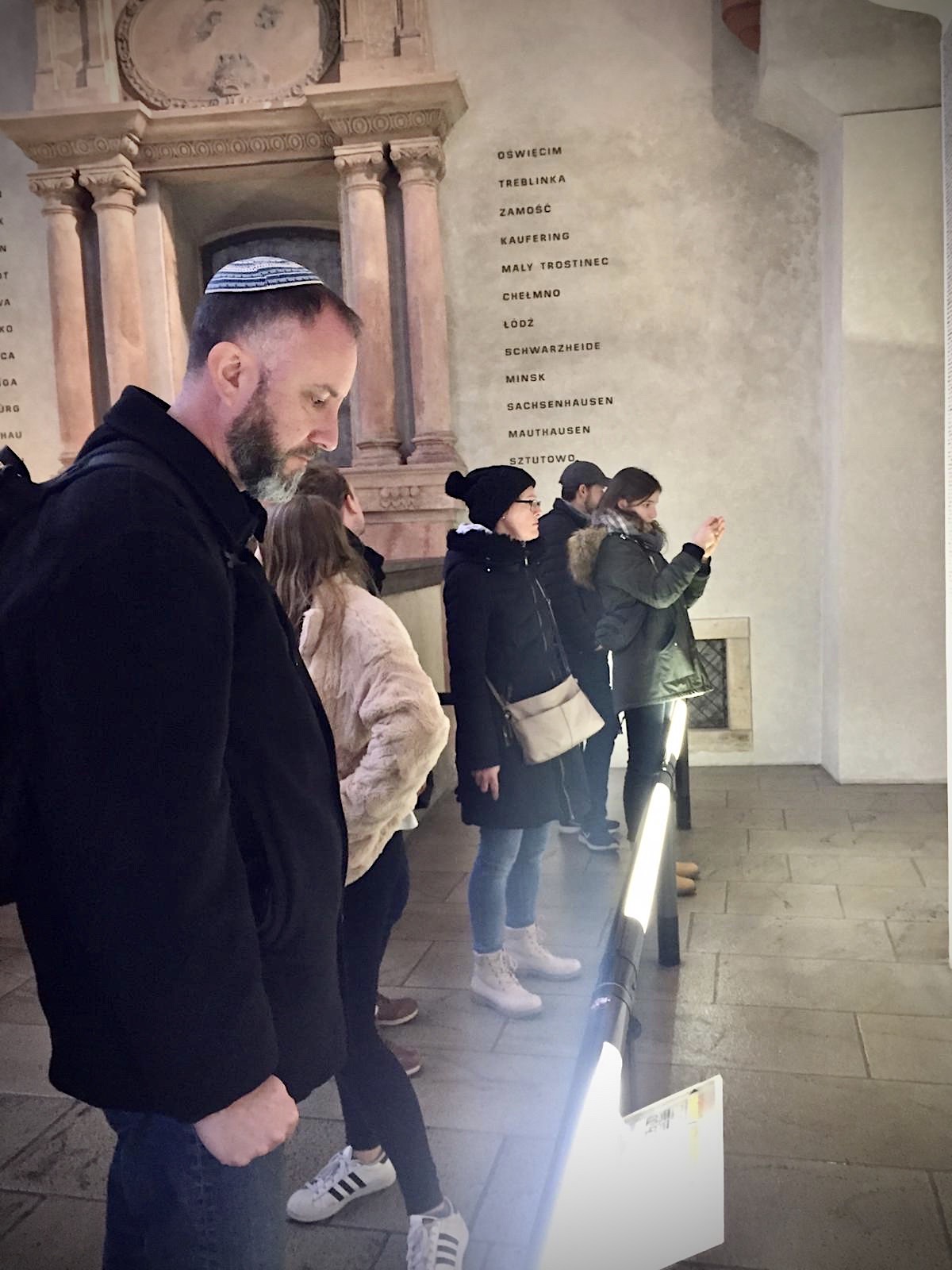 RJM: On Sunday, we spent the day exploring the Jewish Quarter of Prague and the different synagogues there.
AP: The synagogues in Prague's Jewish Quarter are all architecturally different, dating from the 1200s through the 1700s. One of the synagogues is the oldest in Eastern Europe, and it's the oldest continually operating synagogue anywhere in the world. They've had continual Jewish worship there since the 13th century.
MF: One of the synagogues had been converted into a Holocaust memorial. It was an incredible experience. They took the time to write the names of victims of the Holocaust on the walls. You walk in and it almost looks like a black wall, but you get closer and it's all these names. There are so many, and it's so compressed. It's really powerful. We also visited the Jewish cemetery.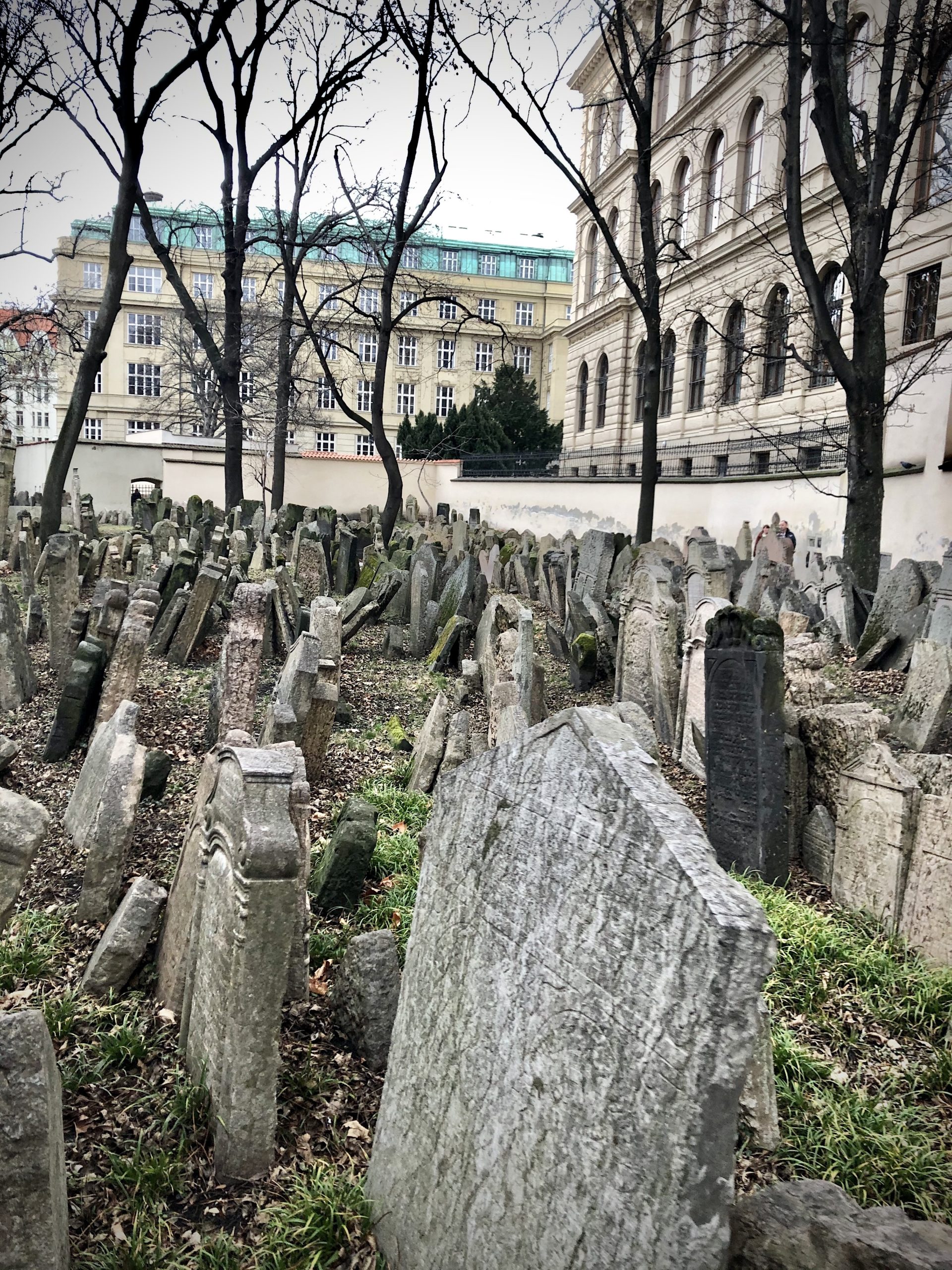 AP: The Jewish cemetery in Prague is one of the oldest in the world, spanning from the 1400s to the 1700s. Notable Czech Jews are buried there, and it's an interesting space to remember the centuries of Jewish life in that country.
MF: Because of the intolerance in Prague for hundreds of years, it's interesting because the cemetery is very, very packed. They had to basically bury one layer, and then when that layer was full, put more earth on top of it, and bury another group. The ground of the cemetery is probably seven or eight feet higher than the street level. When you walk up to it you see this wall and don't know what's behind it.
RJM: On Monday, we got on our bus and went an hour and fifteen minutes outside of Prague to Terezin, which had originally been built in the 18th century as a garrison city, and then was used as a prison. When the Nazis came to the Czech Republic — then called Czechoslovakia — they took it over. During World War II, it was a concentration camp. It wasn't a death camp, although about 30,000 Jews died there during the course of the war, mostly from disease and malnutrition.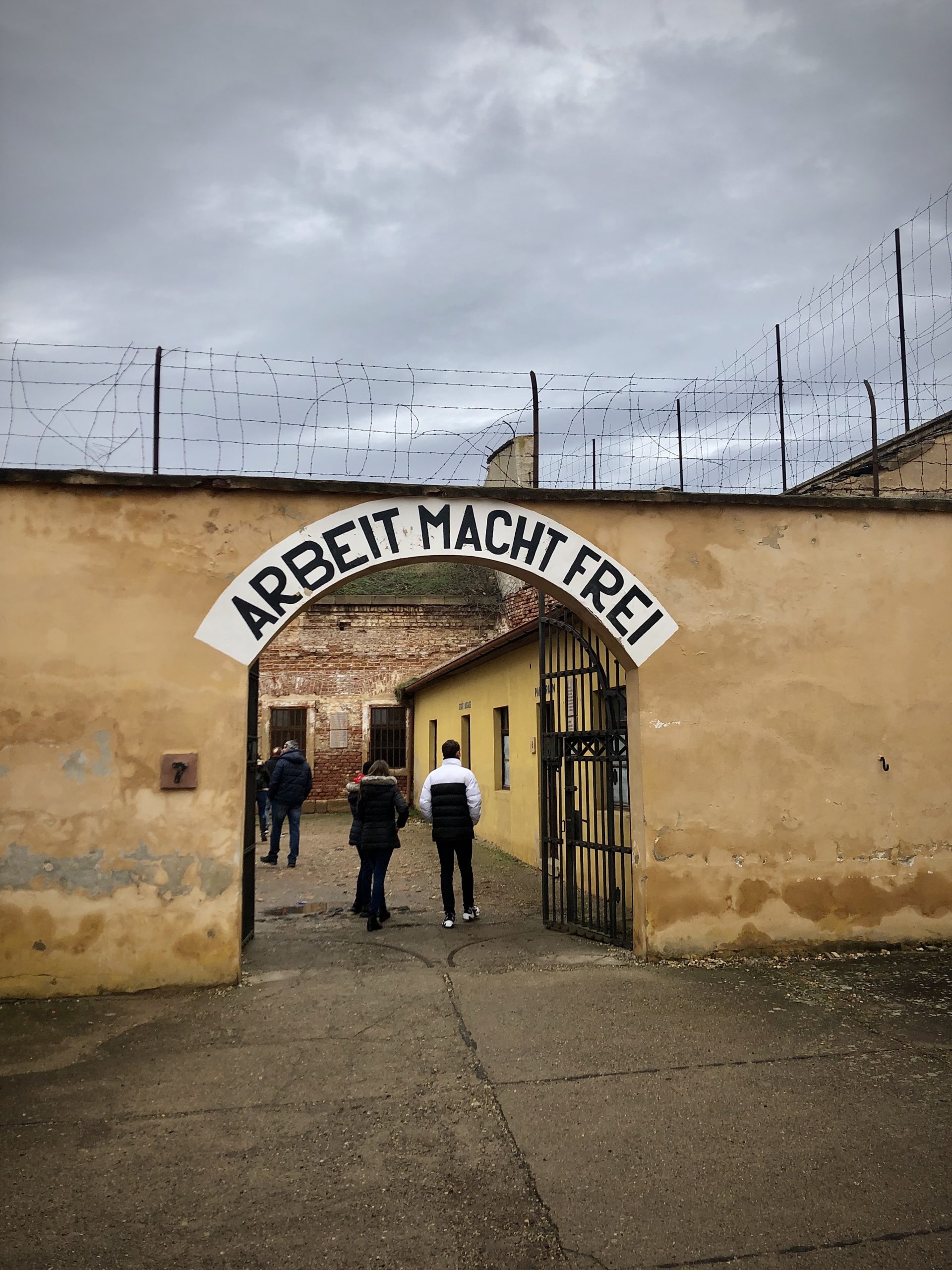 MF: To see this fortress built in medieval times, which was meant to protect the Czech Republic from the outside, converted into this ghetto and prison, was just an incredible experience.
RJM: If you look at a map of Europe, the Czech Republic is right in the middle, and Terezin is right in the middle of the Czech Republic. If you're carrying out the nefarious plans of the Nazis, in addition to death camps, you need places to gather people together and then send them on to the next place. So, people would come to Terezin sometimes for months at a time, or a couple years at a time.
AP: Many Jews were transported by train [from Terezin] to extermination camps, specifically Auschwitz.
RJM: Part of it looks a like a little city with apartments, and Jews lived in that place. They probably knew what was to come. When there was room at Auschwitz — that was how our tour guide described it — they would send 1,000 or 1,500 Jews at a time to the death camps.
MF: The ghetto interestingly looks a lot nicer than it should because the Nazis used it as propaganda during the war to show the world that the Jews weren't really being harmed. Which obviously wasn't the case. But it was striking because it was so clear that what had been made to look nice was such a small portion of it. The propaganda machine that was so fully in effect that managed to actually make this a convincing story was almost bewildering.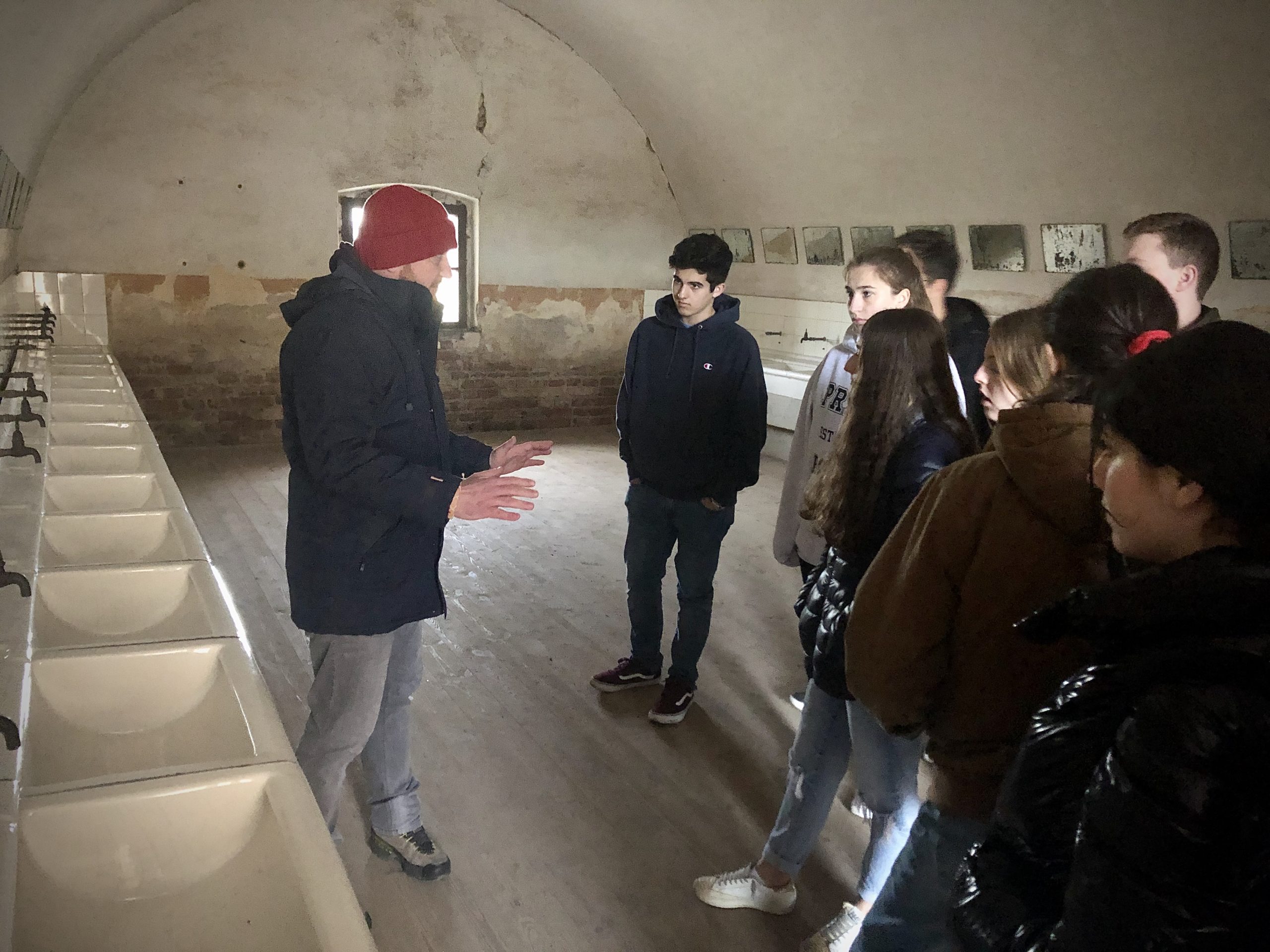 RJM: In 1943, I believe, the Nazis brought the International Red Cross to Terezin as a way of saying, "Oh, there's nothing to see here." They painted the camp, they created ball fields, they created this shaving room, which still exists, so they could show they provided facilities for the Jews. The sinks are all still there, and the mirrors. The sinks, by the way, were never hooked up to water. The Nazis made propaganda movies showing Jews dressed well and playing ball. They made the Jews compose an opera called "Brundibár," which actually has been produced even in recent years, so they could show the Red Cross how Jewish life was thriving there.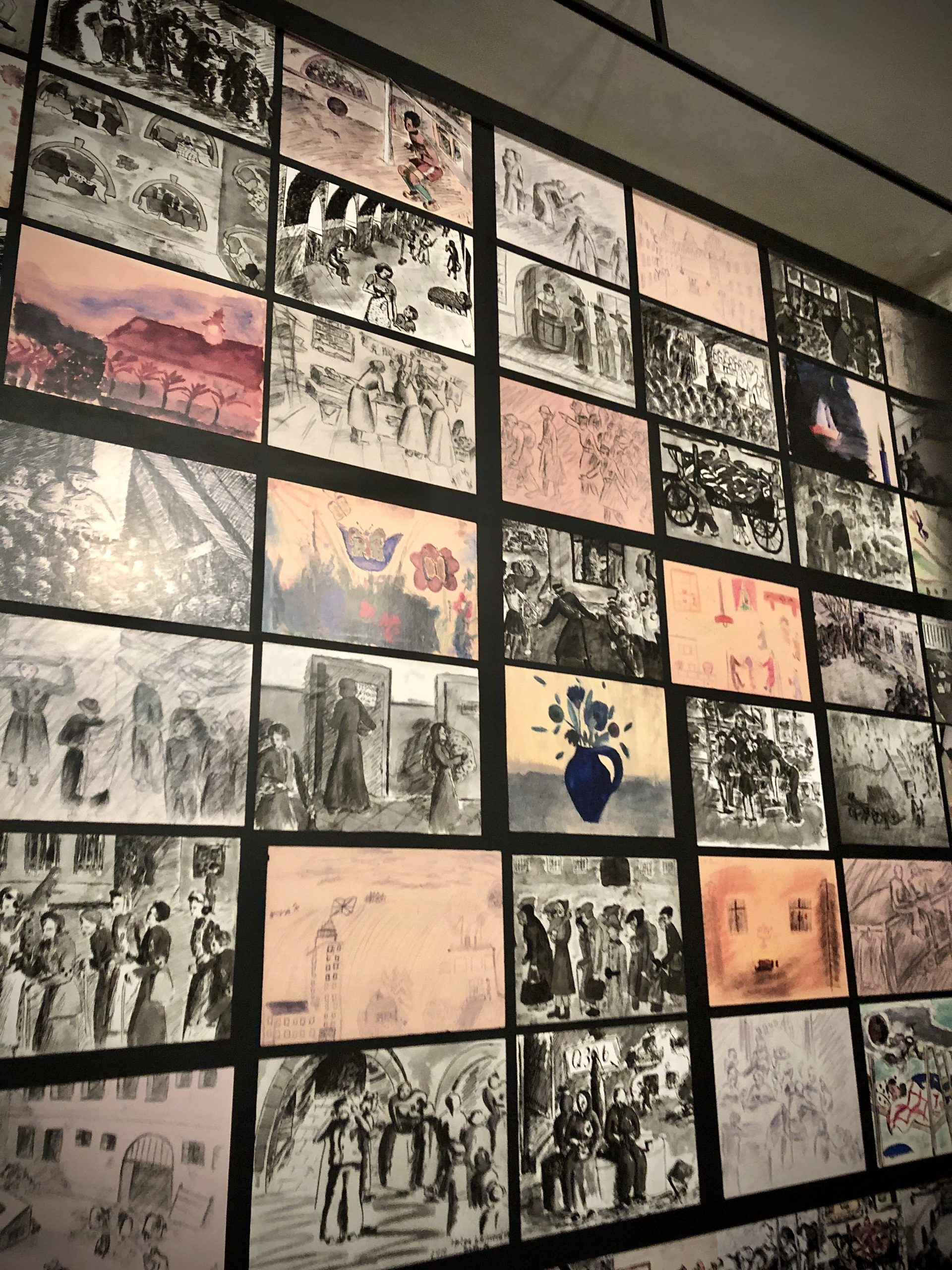 AP: One of the amazing things about Terezin was looking at artwork, listening to music, and looking at writings created by the Jewish community in Terezin to keep their spirits going, understanding that life must continue, even in the most challenging times. There was this culture of art, poetry, theater, and music.
MF: To see the art — that was really the only true expression of the conditions. They have a museum with drawings and music and it's incredible. From children to adults, to see their artwork and to contrast that with the videos and pictures that were staged, which tell a very different story — it's incredible to see. You can learn about it in school, but to go and see it is completely different.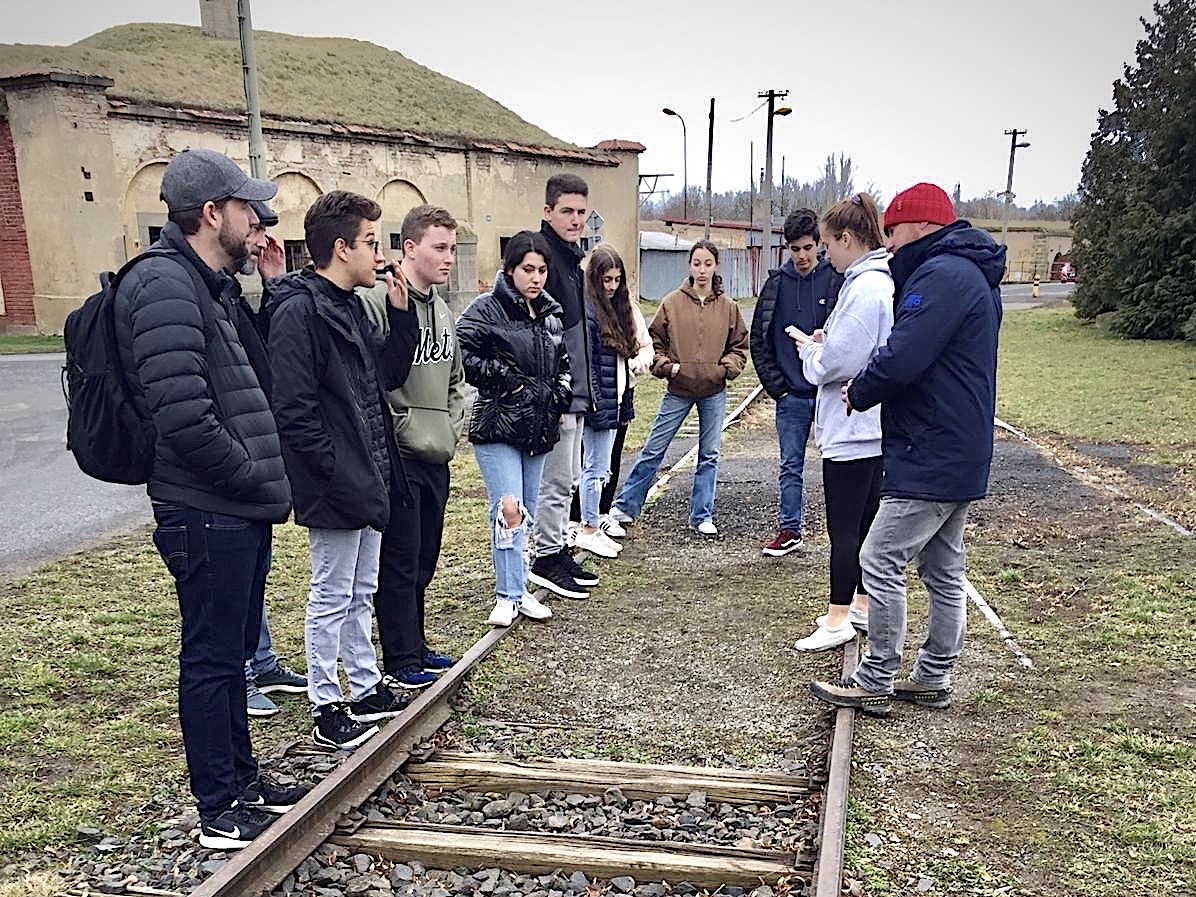 RJM: We stood on the railroad tracks that led from Terezin to places like Auschwitz. In the early years of the war, Jews were sent to other places, but once Auschwitz was up and running, Jews were sent almost exclusively to Auschwitz from there. Auschwitz is about 600 kilometers [375 miles] from there, which can take 10 or 12 hours by train, or days or weeks, depending what else was on the tracks and how much of a priority it was to use the tracks for military purposes.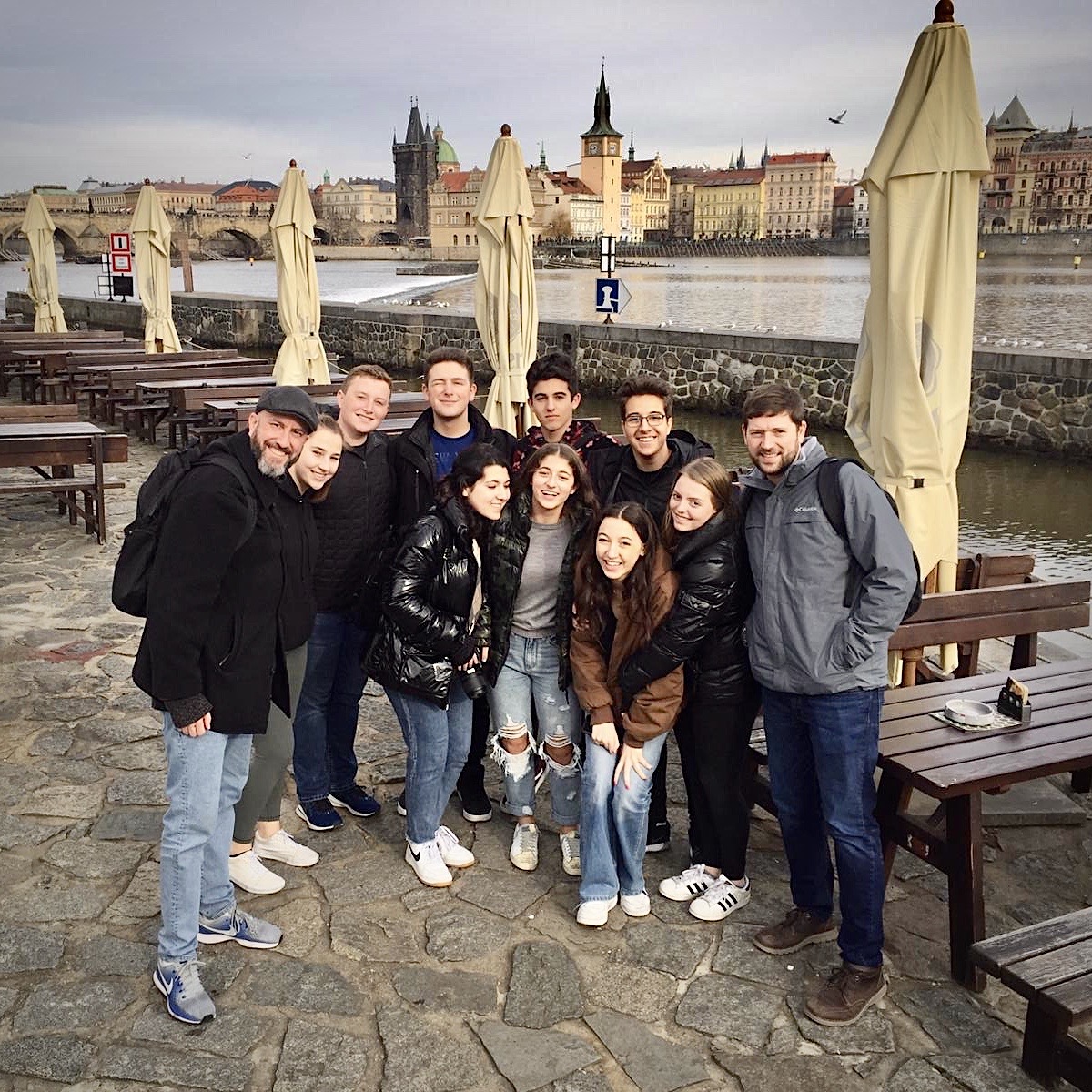 AP: We had a very powerful experience. Our teens had very deep reflections and expressed the importance of seeing, firsthand, sites from the Holocaust to better understand that period of Jewish history.
MF: To see the conditions and how people were forced to live was — I can't even describe it. We visited a cemetery they have there to honor a lot of the victims. It was really meaningful.
RJM: I've been to Prague before, and part of the joy is seeing the city through the kids' eyes. It was a great, super smart, thoughtful group of teens. That's something I'll always remember. Just how fun they were, and smart, and thoughtful, and what good questions they asked, and the curiosity they brought to the whole experience. And to be able to enjoy this beautiful city with the kids, and to talk about the history of Jewish life in Europe, and the power of a place like Terezin and the questions it raises about the nature of humanity and goodness and evil, and humanity's ability to create and destroy. The experience of going with these kids, and the bonds that Andrew and I made with them are things that I think will last, always. It was a great joy.
---