High Holy Days 2020 • 5781
Still Holy. Still Together. Just Online.
A Message from Our Clergy: Why Online?
"I make this commandment not with you alone, but with those who are standing here on this day, and those who are not standing here on this day… Choose life!" (Parashat Nitzavim, Deuteronomy)
These words which we read every Yom Kippur guide Jews in everything we do, even when they seem to conflict with another foundational Jewish value, captured in Yiddish expression: "Life is with people!" We are a people who gather. We gather for joys and sorrows, for study and celebration, for feasting and prayer. But if our well-being, or the well-being of any other soul, would be compromised, we always follow that simple and profound command, "Choose life!"
Throughout our history, we have faced threats to our well-being and the well-being of humanity, challenging our ability to gather in the ways and places tradition directs. And every time, we have creatively adapted, choosing safety and life. As a result, our rituals have evolved and the blossoming of our practices have deepened the meaning and heightened the power of how we express our Judaism. This year demands that we adjust to fulfilling that sacred mission and provides an invigorating opportunity for radical innovation.
Coming together through technology, in real time and through recorded modules, much will be different, but "Life is with people!" will remain unfaltering. We will be the first generation to gather online in this new way, from various locations around our city, our nation, our world, during our holiest season. But as Moses' echoing words remind us, though we didn't stand with our ancestors when we first heard "Choose life!" they were spoken to us then, as they are now. Even without the benefit of WiFi, our biblical ancestors understood that time and space collapse when we gather together as a community, pursuing the sanctity of our very existence.
We look forward to welcoming 5781 with you, experiencing the familiar observances of our tradition's holiest days together in this new way. We wish you and your loved ones Shanah Tovah – a happy, healthy, and sweet new year.

RE:set – A Jewish Approach to Soul Care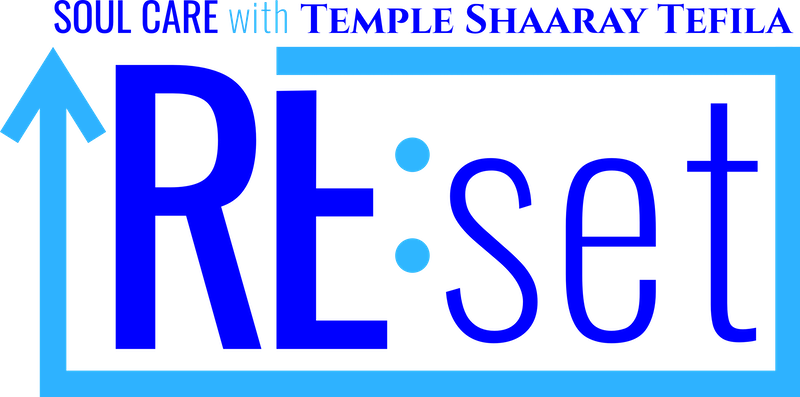 From the beginning of the Hebrew month of Elul (August 21) through Simchat Torah (October 10), Judaism asks us to engage in Cheshbon Nefesh, "accounting of the soul."
In these unprecedented times, with our community set to experience the High Holy Days like never before, we invite you to participate in RE:set. Engage in guided introspection over this 7-week period, taking a closer look at the habits of our heart and readying our souls for the hard work of the High Holy Days. Join us to be inspired by the wisdom of our tradition and to cultivate wellness in your life with simple daily actions.
About Your "Tickets"
Members in good standing will have access to all our High Holy Days service and program broadcasts. To be in good standing, your dues, security assessment, building assessment, and tuition payments must either be paid in full by September 4, 2020 or current with an arrangement or payment plan. Visit the Member Portal today to check your account balance.
Have questions or in need of some assistance? We're available by phone at 212-535-8008 ext. 222 or ext. 261 and email at HHDhelp@tstnyc.org, our dedicated High Holy Days support inbox.
High Holy Days + Member Portal
For your convenience and to better serve you, we've moved all our High Holy Days forms to the Member Portal. Learn more below about what you'll need to fill out.
Have questions or in need of some assistance? We're available by phone at 212-535-8008 ext. 222 or ext. 261 and email at HHDhelp@tstnyc.org, our dedicated High Holy Days support inbox.
High Holy Day Machzor
While some text for our High Holy Days liturgy will be included in the visuals for our service broadcasts, if you would like to have a physical copy of the machzor (High Holy Days prayer book) so that you can hold it in your hands and enjoy its many rich offerings, you can order from the Central Conference of American Rabbis (CCAR) Press.