About the Appeal
Each year during this time of renewal, we ask you to renew your commitment to our Shaaray Tefila community by supporting the 5783 Annual Appeal campaign. Every dollar raised is crucial to our continued success and helps us provide the spiritual, educational, and social experiences you've come to know, and makes it possible for all of us to celebrate our Jewish faith and values together. 
Your support of this campaign allows us to focus on invigorating our member experience, enhancing our physical space, updating technology, and building our financial position. It also supports our clergy to strengthen our wonderful services and programs. Membership dues alone are not enough to sustain our community, which is why we encourage you to support the Annual Appeal today.
Meet our Annual Appeal Chairs, Melissa and Rob Saperstein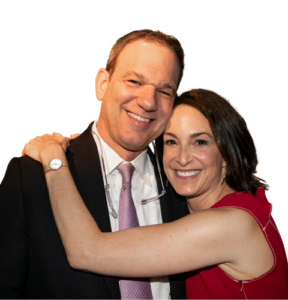 When we joined Shaaray Tefila in 2006, our sons Charlie and Joe were small children, and our daughter Leah was only a year old. Over the last 16 years, we watched them grow up at Shaaray Tefilla. Our many wonderful memories include their time at the Nursery School, Religious School, and Pathways.
In many ways, the congregation has become our other family, and we have built a strong community of friends. We have devoted time to serving in many leadership roles including the Board of Trustees, Spring Gala, and Rabbi Search Committees. Temple Shaaray Tefila has provided great experiences for our family, educated us from childhood to adulthood, connected us with a strong community, and fostered a love of Judaism. By donating to the Annual Appeal campaign, you will be supporting all our families and multiple generations.
Please make your gift to the 5783 Annual Appeal to help ensure the continuing legacy of Temple Shaaray Tefila.
Ways to Give
Donate Online!
Credit Card and E-Check accepted through the Member Portal.
Donate By Mail!
Please make checks payable to "Temple Shaaray Tefila" and mail to our PO Box address:
Temple Shaaray Tefila – NYC
PO Box 418
Montvale, NJ 07645
Stock Gifts & Wire Transfers!
Please click below to download the stock transfer instructions or wire transfer instructions. To inform us of your donation, please contact Lori Tompkins at ltompkins@tstnyc.org.
Instructions for Stock Gifts »
Instructions for Wire Transfers » 
Have questions or need assistance?
For information about giving stock gifts or if you have any questions, please contact Hallie Golden, Director of Development, at hgolden@tstnyc.org.