Rabbi Elazar ben Azariah says:
If there is no flour, there is no Torah;
if there is no Torah, there is no flour.
(Pirkei Avot 3:17)
About the Appeal
We rely on the generosity of our Shaaray Tefila community to supplement the dues and school fees that comprise the majority of our budget. Donations to our Annual Appeal enable us to attract and retain talented clergy and Jewish professionals, and to provide our entire community with meaningful programs for education, celebration, social action, and community-building. The Annual Appeal also enables us to subsidize membership for those in need of assistance so that anyone may be a part of our community no matter their financial situation. We are grateful to everyone, both within our synagogue membership and beyond our walls, who has contributed to the Annual Appeal, affirming the importance our community places on Jewish tradition, values, and continuity.
Ways to Give
Donate Online!
Credit Card and E-Check accepted through the Member Portal.
Donate By Mail!
Please make checks payable to "Temple Shaaray Tefila" and mail to our new PO Box address: Temple Shaaray Tefila – NYC, PO Box 418, Montvale, NJ 07645.
Have questions or need assistance?
For information about giving stock gifts or if you have any questions, please contact Hallie Golden, Director of Development, at hgolden@tstnyc.org or Dana Renert, Development & Donor Relations Manager, at drenert@tstnyc.org. Please consider making your Annual Appeal gift before December 31, 2020.
Track our Progress
Support is one of the core tenets of community. Track our progress and help us reach our goal of securing a minimum of 80% participation from our congregation no matter the amount!
Meet our Annual Appeal Chairs, Bonnie & Charlie Alter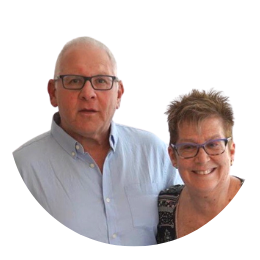 L'Shanah Tovah! We are extremely proud to serve as the Chairs of Shaaray Tefila's 5781 Annual Appeal! What an honor! The campaign launched in August with a letter from Rabbi Joel Mosbacher and President, Liz Sherman. As you may know, the Annual Appeal is the Temple's most important and largest fundraiser of the year.
After moving to the Upper East Side, we joined Shaaray Tefila in 2016. We immediately felt the warmth of the congregation upon entering the sanctuary when we attended our first Shabbat Service and then knew that TST was where we wanted to become a part of the community and become our new spiritual home! Coming from a Conservative/Orthodox Jewish background, Shaaray Tefila has provided us with a sort of "Jewish Renaissance" in learning and appreciating Judaism.
We enjoy and participate in many activities at Shaaray Tefila including attending Shabbat services and Saturday minyan & Torah Study, as well as, attending Men's club, and Sisterhood programs. Our leadership roles within the congregation have included "Captain Charlie" of the WZC Election, Board of Trustees member, and being a part of the Red Apron Brigade at Sandwich Saturday. We also attended the Biennial in 2017 and 2019 as part of the TST delegation.
Our goal is to secure a minimum of 80% participation from our congregation and we hope we can count on you to reach it. We are also proud to share that we already have 100% participation from the Board of Trustees. If you haven't already donated, please consider a gift to the 5781 Annual Appeal at the same level or higher than last year.