Shakshuka and Shakshuka: A Delicious Musical Celebration of Israel's Independence Day
Saturday, April 17 @5:00pm

-

6:30pm
Shakshuka has been performing their unique and contemporary brand of Israeli and Sephardic music spiced with jazz for over 20+ years. "Shakshuka" comes from the food by the same name, a spicy mix of eggs, garlic, and tomatoes that creates a tasty and unique eating experience.  This is an appropriate metaphor for Shakshuka's fusion of Israeli and Sephardic music where East meets West – a sizzling musical treat that re-invents and renews timeless Jewish music.
"Shakshuka really captures the spirit and soul of contemporary Jewish music…" – The Daily Herald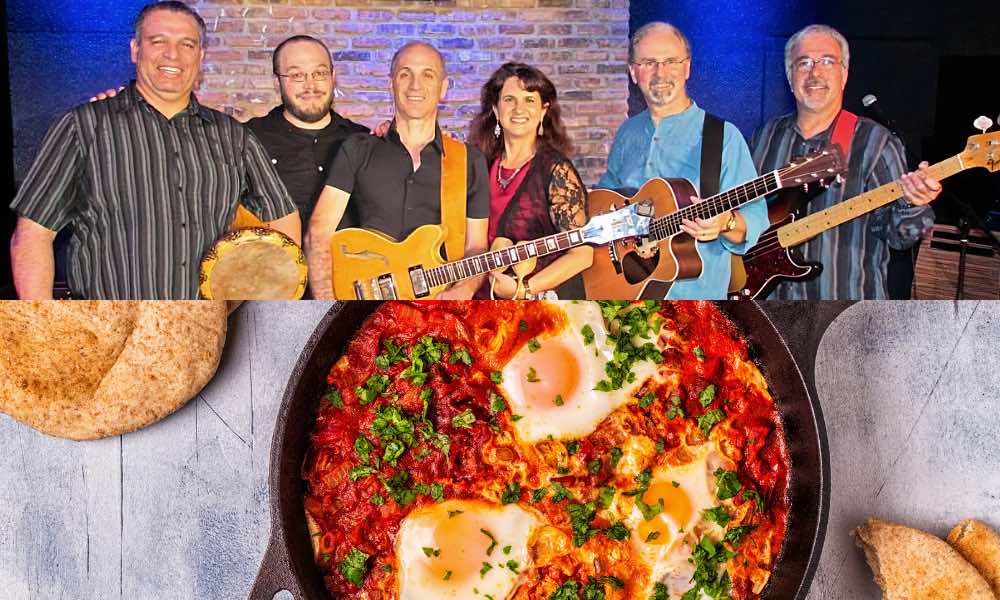 More about Shakshuka (the band)
Shakshuka is a group of musicians who love Jewish music and grew up influenced by folk, pop and jazz music.  While true to the original traditions, their music creates a refreshing sound from these new musical treatments. Their music is wide ranging including songs of the early Israeli pioneers, camp favorites, songs by modern Israeli composers, Middle Eastern and Sephardic music, and original compositions. Shakshuka's founding members are with us today, Cantor Rachel Rosenberg, Chuck Rosenberg, and Steve Yastrow.
Cantor Rachel Rosenberg
Rachel has performed a wide variety of Jewish music in the Chicago area and beyond for many years. She was a camp songleader at OSRUI in Wisconsin where she met her husband and collaborator, Chuck. Rachel currently serves as the Cantor at Congregation Rodfei Zedek in Hyde Park on the South Side of Chicago. Rachel shows her musical versatility as Shakshuka's lead vocalist and hand percussionist.
Chuck Rosenberg
Chuck has grown up playing music encompassing styles from Jewish to jazz. He has been a camp song leader and has performed in a variety of musical groups. During these last few months, Chuck has enhanced the virtual Shabbat tefillah experience through his creative application of content using the latest technology tools. Chuck plays acoustic guitar and does much of the group's arrangements.
Steve Yastrow
Steve is an accomplished musician having graduated from Indiana University with a degree in music composition. Steve has performed in numerous bands with styles varying from jazz to rock. Steve brings his unique guitar virtuosity to the music of Shakshuka, playing both acoustic and electric guitars. When Steve is not playing music, he is a business strategy consultant and author.
Details
Date:

Saturday, April 17

Time:

5:00pm-6:30pm

Event Category: