Shabbat Services w/Rabbi Seth Limmer
Friday, December 17, 2021 @6:15pm

-

7:30pm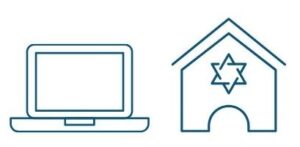 Please join us in person and virtually for Erev Shabbat services as we welcome special guest, Rabbi Seth Limmer, senior rabbi of Chicago Sinai Congregation.
Through the Looking Glass: Moving Past the Binary in Identity
People neither born nor raised Jewish who choose to lead a Jewish life provide a special window into how we might properly understand Jewish identity. Once we free ourselves from the trap of translation, we discover ho utterly inappropriate is the word "Conversion" for people on such a journey, and, in so doing, uncover a few other false binaries in modern Jewish life.

If you plan to attend in person, please review our Building Entry Policies. Please have proof of vaccination or negative PCR test and complete our Health Screener before entering the TST building. Masks must also be worn when inside.

About Rabbi Limmer:
Rabbi Seth M. Limmer, DHL, serves as senior rabbi of Chicago Sinai Congregation. During his rabbinate he has served as chair of the Justice, Peace & Civil Liberties of the Central Conference of American Rabbis, as vice-chair of the URJ's Commission on Social Action, as dean of faculty for Eisner and Crane Lake Camps, as adjunct professor at Hebrew Union College-Jewish Institute of Religion, and currently serves As the Vice President of Leadership of the CCAR. On behalf of Chicago Sinai Congregation's lead role in organizing the Reform Movement's participation in the NAACP's 2015 America's Journey for Justice, Rabbi Limmer accepted the Rabbi Maurice Eisendrath Bearer of Light Award, the highest honor of the URJ.
Author of many articles, 2016 saw the publication of his first full-length book, Medieval Midrash: The House for Inspired Innovation, co-authored with Bernard Mehlman. Rabbi Limmer also served as co-editor of Moral Resistance and Spiritual Authority, published by CCAR Press in 2018. Recently, Rabbi Limmer has contributed chapters to the CCAR Social Justice Commentary, The Sacred Exchange, The Sacred Table, as well as the forthcoming CCAR Haftarah Commentary. Rabbi Limmer was a founder of the Just Relations column that ran for two years in the Chicago Sun-Times, and has seen many essays printed in the Chicago Tribune, Times of Israel, U.S. News and World Report, and more.
In 2021, Rabbi Limmer was appointed to serve on the Illinois State Commission on Discrimination and Hate Crimes, and was a founding member of the Faith Leader Social Justice Advisory Committee to the Mayor of Chicago.
---
Watch our Livestream for the highest quality picture »

For members that would like attend the service via ZOOM:
Service Link: https://tstnyc.zoom.us/j/962563975
Dial In: 929-436-2866
Meeting ID: 962 563 975
Follow Along: Digital Prayer Book »
Having issues accessing our service? Visit the Zoom Help Center »
Details
Date:

Friday, December 17, 2021

Time:

6:15pm-7:30pm

Event Categories: