Mahloket Matters: A 4-part Discussion for Parents and Teens
Tuesday, March 1 @6:30pm

-

8:00pm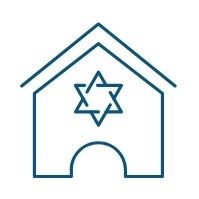 Mahloket Matters: A 4-part Discussion for Parents and Teens to learn to talk about some of the hard things happening in our world today.
Facilitated by Rabbi Sharon Litwin
Using a model created by the Pardes Center for Jewish Educators, we will create a framework for a constructive conflict mindset, and an understanding that disagreements can be a positive opportunity for growth and deepening of relationships. We will study Jewish texts to help us consider social values, assess current events, form our own opinions, and learn how to relate to others with whom we disagree. We will consider our own Social Emotional Learning to acquire and apply the knowledge, skills and attitudes necessary to develop healthy identities, manage emotions, achieve personal and collective goals, and cultivate intergenerational relationships.
Tuesday, February 1: Creating the Framework
Tuesday, March 1: My Pronouns Are??!?? Gender Identity and how to talk about it in a multigenerational setting
Tuesday, March 29: Vaccines, Conspiracies, Politics, and the Internet – How do we know what to think when you can find anything to back up any idea on the internet?
Tuesday, May 10: Is there anything Jewish about Cancel Culture?
This class is free and open to all Shaaray Tefila families with students in 8-12 grades along with a parent/guardian to help promote meaningful intergenerational conversations and communication. Registration in Pathways is not required.
Registration deadline is January 27. 
Before entering the building, please review our Building Entry Policies. Please have proof of vaccination or negative PCR test and complete our Health Screener before entering the TST building. Masks must also be worn when inside.
Details
Date:

Tuesday, March 1

Time:

6:30pm-8:00pm

Event Categories: